screenings
Please follow us on Instagram and/or on Facebook to stay up to date on future screenings.
past screenings
If you are part of our community, or up for making acquaintance with sex workers and all the cultural goodies that are produced by our communities: come to our screening on 11 June at 20:00 at Filmhuis Cavia!
During this event we present films that focus on the intersections of sex work, trans, Latinx and migrant communities. We will screen the film Caer/Caught (61 min) by Nicola Mai and Colectivo Intercultural Transgrediendo and What if Tomorrow I'm Next (4 min) by Cosmopolitrans (with Papaya Kuir).

A panel discussion with the film makers will follow in order to further explore the experimental nature of Caer and the collaborative process of community-led storytelling in both films. The discussion is facilitated by queer.red Board Member Domi Olivieri, anthropologist, activist, researcher and teacher in the field of gender studies, media and society and will be pre-recorded to accommodate time zones, languages, and technical limitations.
CAER/Caught (Nicola Mai, 2021, UK, 61 min, English/Spanish) is an experimental and collaborative documentary combining fiction (ethnofiction) and observational nonfiction methods to include people whose lives are portrayed and who are directly concerned in all phases of its production. The documentary is the result of the collaboration between Nicola Mai and the Transgrediendo Intercultural Collective, a grassroots nonprofit organization defending the rights of transgender Latina migrant women in Queens, New York City. CAER is also a tribute to the work and legacy of Lorena Borjas, the mother of these Latin transgender women living in Queens, who was one of the first victims of COVID-19 in New York in March 2020. The story and the roles in the film were written and played by members of the Transgrediendo Intercultural Collective who were also involved in the editing of the film.T hey were written collaboratively through several writing workshops allowing the people directly concerned to express their real individual and collective experiences of migration, sex work, and exploitation.
What if Tomorrow I'm Next (Cosmopolitrans, 2021, GER/NL, 4 min, English/Spanish) is a film made by Cosmopolitrans as a part of a campaign to end violence against sex workers. It was recorded at the T-House in Amsterdam (The Netherlands) in May 2021. Cosmopolitrans is a collective based in Hannover, Germany led by trans* sex workers.
Event details:
Filmhuis Cavia address: Van Hallstraat 52-I, 1051 HH Amsterdam
Tickets € 5 / Cineville €0
Start screening: 20:00
Drinks at the bar: 22:00
No reservations needed, but if you want to be sure of a ticket please email us and be on time! ticket@queer.red
https://queer.red/ | https://www.instagram.com/queer.red/ | https://www.facebook.com/queer.red/
first edition
In this first edition we are showcasing stories and narratives on the intersection of queer identities and issues related to sex work. We will screen a very special collection of shorts, curated from our hearts, exploring the important things in life, such as romance, remembrance, rebellion and farewell.
After the screening we will also have a live reading performance by Alejandra Ortiz, a local community member, about her experience as a migrant in the Netherlands.
program december 18
1. PonyBoi | River Gallo and Sadé Clacken-Joseph | 2019 | 19 min | USA | English Ponyboi is an intersex runaway. He works at a laundromat and hustles as sex-worker. But after a mysterious encounter with a man from his dreams, he learns that perhaps he is worthy of leaving his seedy life in New Jersey behind. A queer film about discovering self-redemption and love.
2. Behind the Window | Emy Fem, Cat D, Vera Rodriguez and Nayra Green | 2017 | 5 min | the Netherlands | English
Before starting her shift at one of the windows of the Red Light District in Amsterdam, Nayra Green turns her gaze and shares her personal thoughts through stills and movement.
3. TOLOPOSUNGO in Medellín AEFest | Directed by Elvira Hernández, Produced by: CinePiso7 | 2021 | 3 min | Colombia | Spanish
Latin America is the region in the world where most transgender people are murdered (82% worldwide). The state denies civil rights and oppresses trans people through police brutality. A Queer Squad in Colombia fights against an oppressing society with voguing, their bodies, sexuality and lure. Toloposungo is the Colombian "ACAB", it means 'all cops are gonorrhea', in opposition to bastards which in Spanish refers to being born from a sex worker. Dressed in fluorescent green, as the uniforms of the Colombian cops at the time, the Queer Squad takes on the streets changing and confronting the status quo. In this film Medellín's Queer Squad acts during the Erotic Arts Festival of that city AEFest.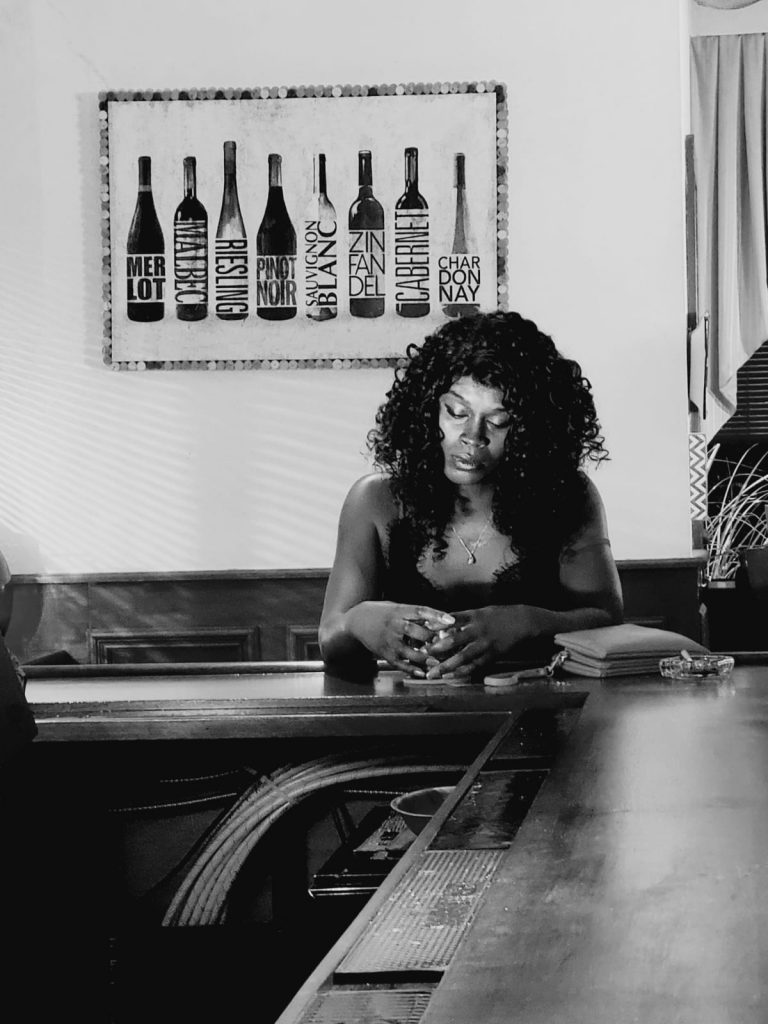 4. Rosie | Paula Cajiao | 2021 | 9 min | USA | English
After a long day at work a man walks into an after hours bar for his last drink before heading home, there he meets someone that is not who he expects to be.
5. Wie man Rad in Latex fährt mit Emy Fem (How to Ride a Bike in Latex) | Objects of Desire [collective] | 2018 | 2 min | Germany | English
In this short educational video Emy Fem teaches about the skills which are needed if you want to bike to your client.
6. Mes Chéris | Directed by Ethan Folk, Ty Wardwell (Cutenon Film), Written by Jamal Phoenix | 2020 | 12 min | Germany | English
Part documentary, part pornography, Mes Chéris is a transboi's farewell to his boobs. One month before his mastectomy, Jamal Phoenix takes on the role of Chéri, a character modeled after his experiences as a Fierce Fem sex worker. This raunchy tribute subverts straight porn tropes and mainstream trans* representation in a radical act of self-love.
1 August 2021 queer.red introduced 'The Journey of Monalisa' in VondelCS in Amsterdam, our first live screening… in collaboration with our friends at TransScreen and the screening was part of the Queer Currents programming.
Teaser The Journey of Monalisa from MIMBRE Films on Vimeo.
13-27 May 2021 we presented 'The Journey of Monalisa' online at TranScreen Film Festival
After 17 years, Nicole Costa gets in touch with Iván Ojeda, her old Chilean friend from college. Back then he was a talented theater director and playwright, and now he has radically re-invented himself. She now goes by Monalisa and works as a sex worker on the streets of New York. Intrigued by this transformation, Costa decides to follow Iván Monalisa, a "gender-neutral two-spirit," in their tough and vulnerable life filled with fleeting sexual encounters and addiction to hard drugs. Nonetheless, Monalisa remains a true artist and continues to write beautiful, raw pieces about life and survival in New York.