We started a sex worker film & arts festival in Amsterdam! By promoting visual arts about, with by and about the sex worker community, we hope to contribute to a greater visibility of a more nuanced representation of sex work. We are a group of (former) sex workers, feminists, queer and trans people from all different walks of life and backgrounds.
We organise events and are working on our first festival edition!
queer.red presents! Whorehouse Cinema 31 March – 2 April 2023 / Amsterdam
Calling all sex worker artists and creators:
queer.red is accepting submissions including films, performances, panels, workshops, and art by sex workers for a film and art festival – queer.red presents! Whorehouse Cinema. 
queer.red promotes visual arts about, with, by, and for the sex worker community.
From 31 March to 2 April 2023 queer.red  is organising a multi-day, multi-media film and art festival in Amsterdam. The goal is to fund as much sex worker-made art as we can possibly fit into one venue. All creators will receive a fee. 
Please submit your screeners or proposals by 12 December 2022 to info@queer.red!
See you at the Whorehouse!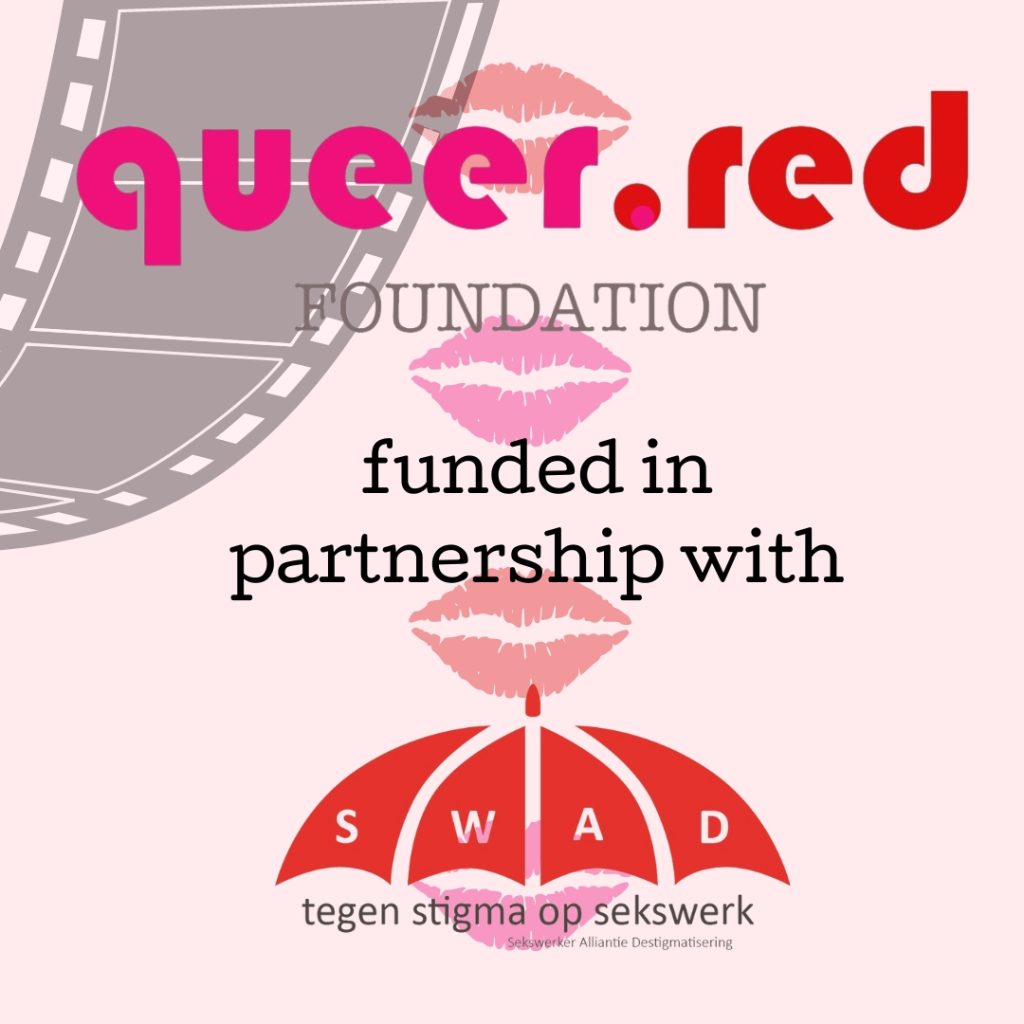 Our first time..
Our first (online) collaboration was with TranScreen Film Festival! TranScreen has been adorning the Dutch cinema screens with a variety of genders since 2011. In May 2021 Our core team member Vera and Alejandra (former TranScreen organiser and ambassador) introduced the documentary 'The Journey of Monalisa', which follows Chilean sex worker and artist Iván Monalisa in New York.
On the first of August 2021, we introduced 'The Journey of Monalisa' in real life in VondelCS in Amsterdam, again in collaboration with TransScreen and this time part of Queer Currents.
Teaser The Journey of Monalisa from MIMBRE Films on Vimeo.
After this first collaboration we have organised some events with Filmhuis Cavia and are getting ready for our first festival edition in 2023. Our events are listed under the events menu, also check us out on Instagram and Facebook.